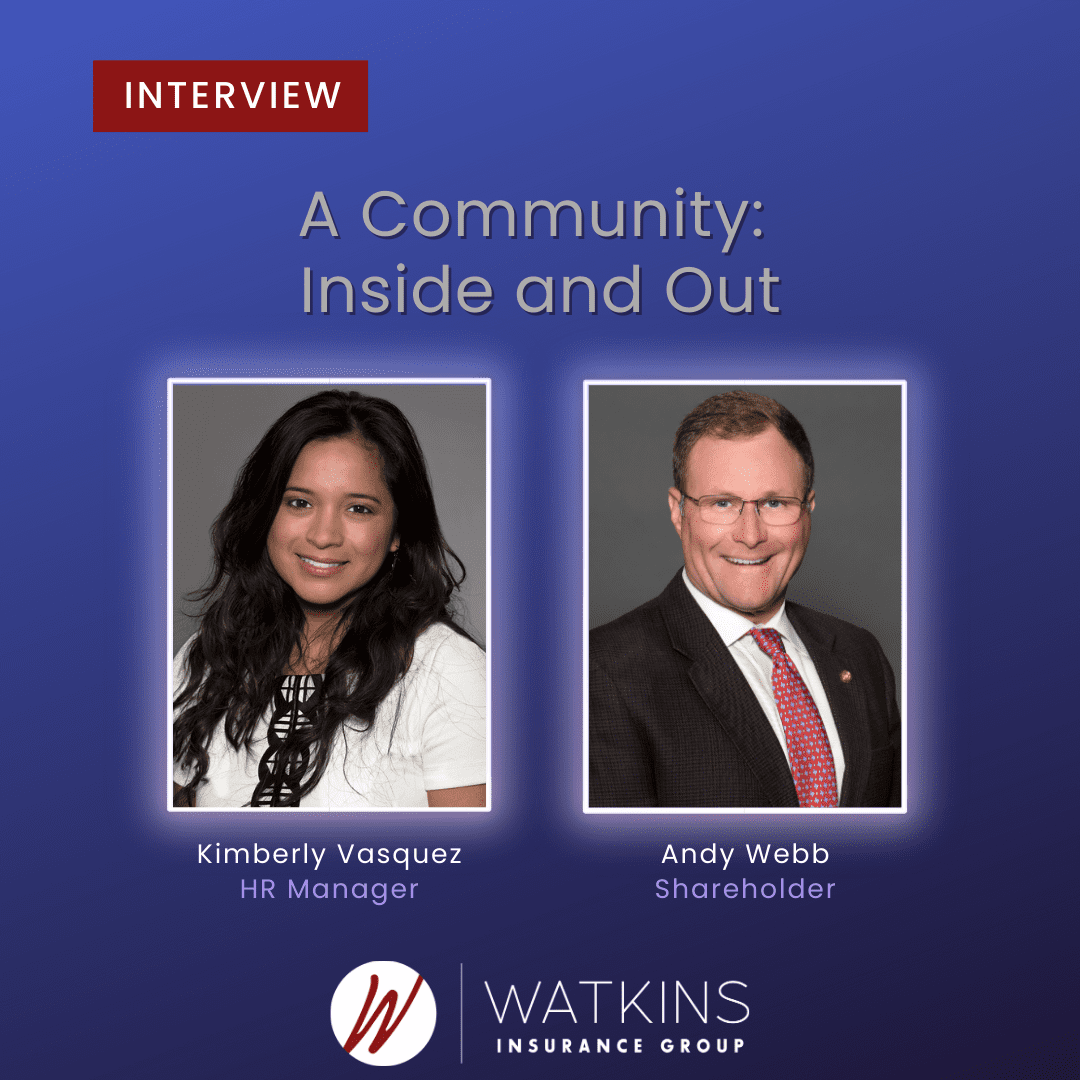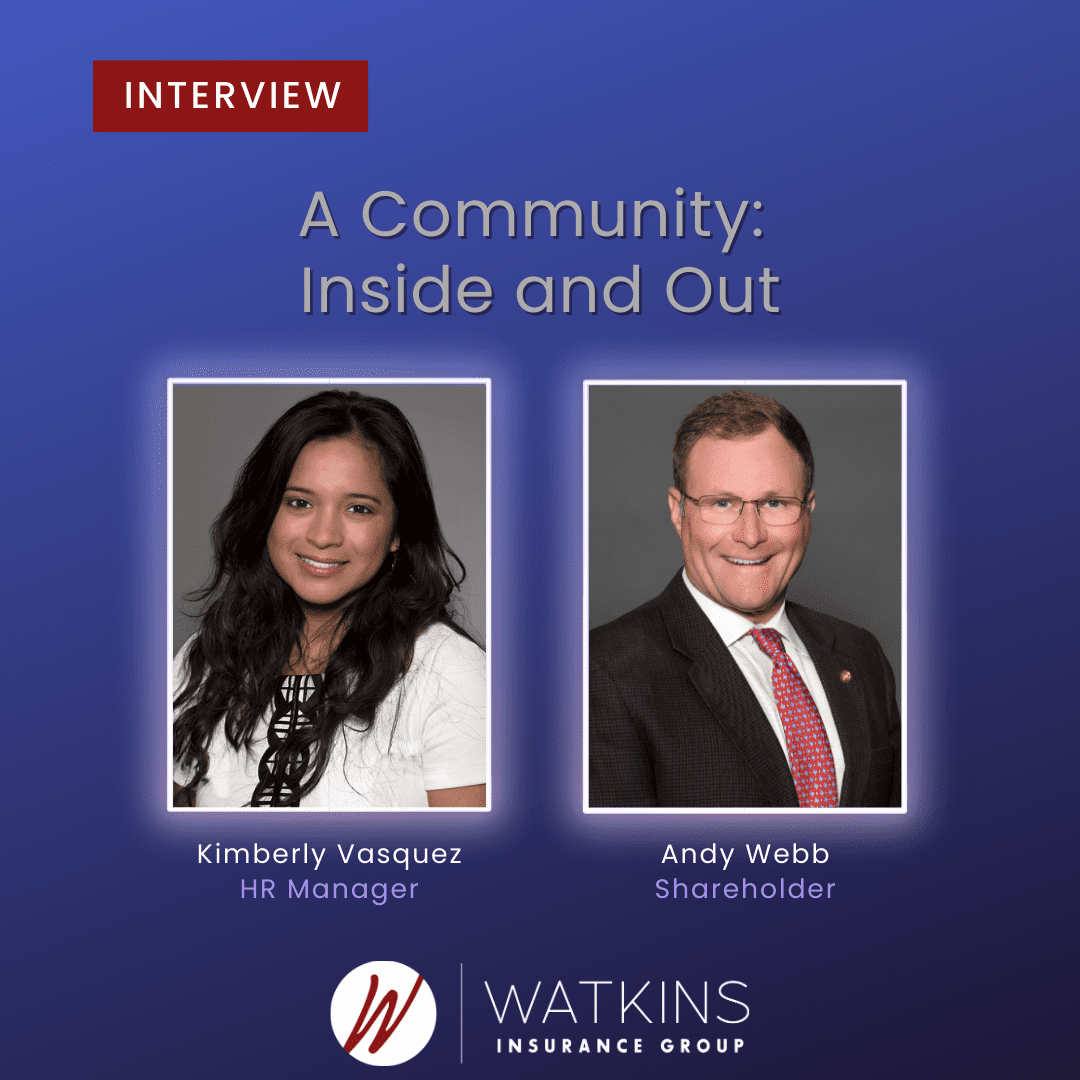 Author: Kimberly Vasquez
When I first joined Watkins Insurance Group, I was greeted with a sense of warmth and authenticity rarely found in the corporate world. How shareholder, Andy Webb, speaks about Watkins and our culture leaves no doubt about why this is the case. "This place is incredibly nurturing, they embrace who I am, and I hope others feel the same way," he shares during our recent discussion.
Bringing Your Whole Self to Work
At Watkins, employees don't need to put on a corporate mask. They're encouraged to be who they are and bring their whole self to work, regardless of their title or what they do. Andy appreciates this unique aspect of the agency's culture: "I've never felt stymied from a personal or personality standpoint. You show up who you are, and we hope that that works."
Building a Nurturing Workspace
Andy explains, "I've always felt like this place is incredibly nurturing, and they embrace who I am. I hope that others feel the same way, that they can be who they are and embrace that." This sentiment resonates throughout Watkins. Our open-minded, supportive culture encourages everyone to bring their whole selves to work and feel comfortable being who they are. Our ethos is simple – you are valued for who you are.
Investing in Employee Wellness
Watkins understands that employees are its greatest asset. The agency invests in health savings accounts (HSAs), enabling team members to save for health-related expenses. Andy feels supported by this policy, "Having the contribution from Watkins gives me confidence that if something were to occur, I don't have to live in constant fear of medical bills."
Professional Development Opportunities
The agency provides numerous professional development opportunities to help employees grow. As Andy puts it, "You have a chance to serve on a board, grow, become better, and be a part of a team." Watkins supports its employees in being involved in various community organizations, believing that the growth through these activities helps employees excel at their craft.
Serving the Community Inside & Out
Watkins serves beyond the doors of the agency. The agency always finds ways to give back, from cookouts for employees, their families, and clients to fundraising golf tournaments and food drives. Andy couldn't be prouder of this, "Our interests are very diverse, and I think that's cool that we have those opportunities to give back and be a part of the community."
When asked what "A community inside and out" means to him, Andy described how Watkins fosters a nurturing atmosphere where employees can serve the customers during work hours and then go out and serve their communities afterward. "I would hope that every single one of them, regardless of their attributes, come here wanting to be a part of a vibrant team and working hard here and go out and give back to the community they live in," he said.
Workplace Culture and Relationships
The optimistic workplace culture at Watkins profoundly impacts the team's work and interactions with colleagues. Andy sees this in his team, "The team that I work with is so relentlessly exceptional that I feel like if I'm not out pushing myself and doing a great job, I'm failing them."
Andy believes this dedication to excellence isn't just limited to his team; it extends to the entire agency. The drive to serve customers is a significant part of the Watkins culture.
Setting Watkins Apart
Andy quickly pointed to the agency's culture when asked what makes Watkins unique. He described the Watkins culture as "undefinable" but firmly believes that Watkins has something special. "We weren't always that, but we became that because we willed that into existence. Because we had a common goal of being better, of continuous improvement, of relationships, of excellence, of being servant leaders," he passionately shares.
An Invitation to Join
We encourage all those interested in joining our growing community at Watkins Insurance Group to reach out. As Andy says, "We will give you every tool to succeed. Join us in our journey of continuous growth, excellent service, and impactful community involvement."