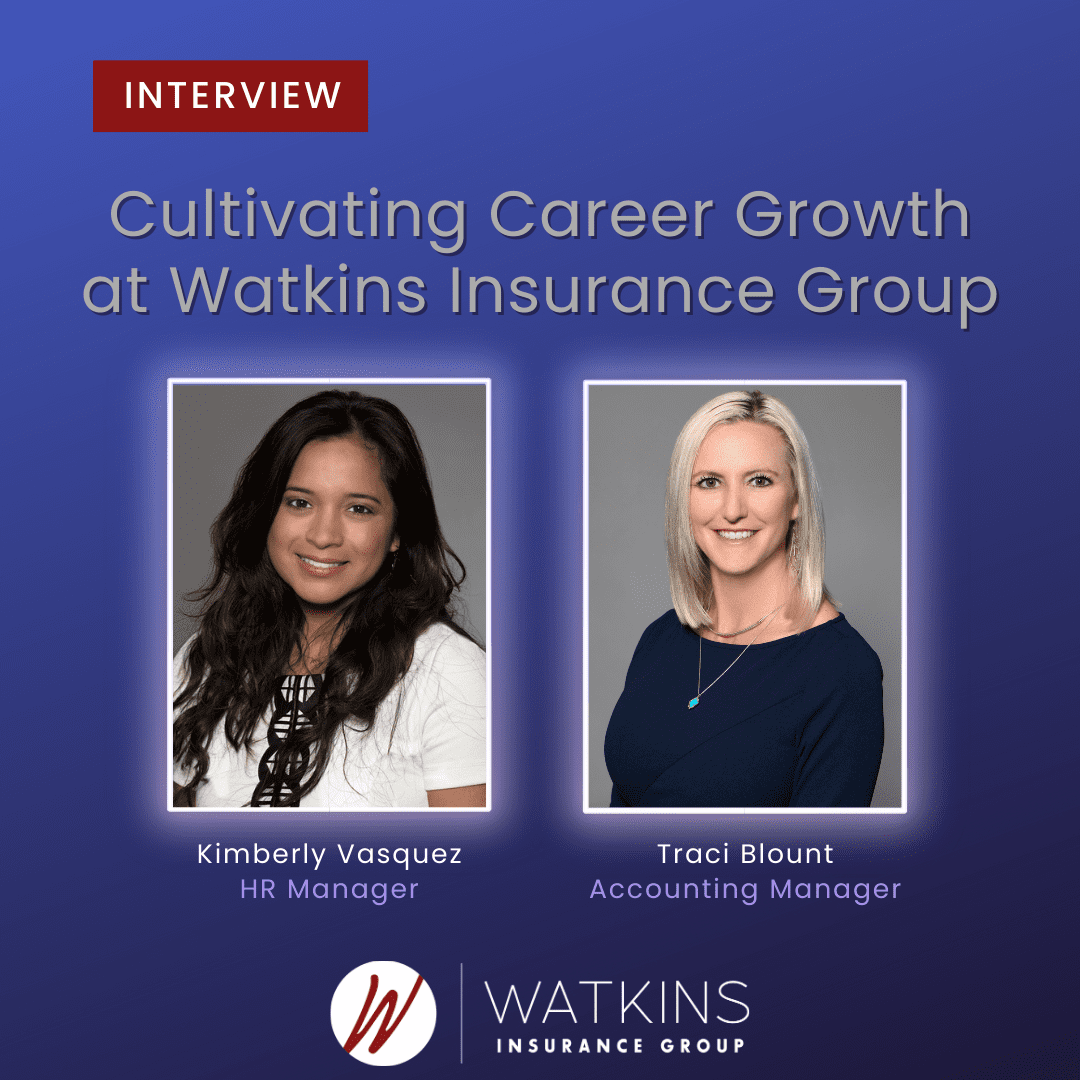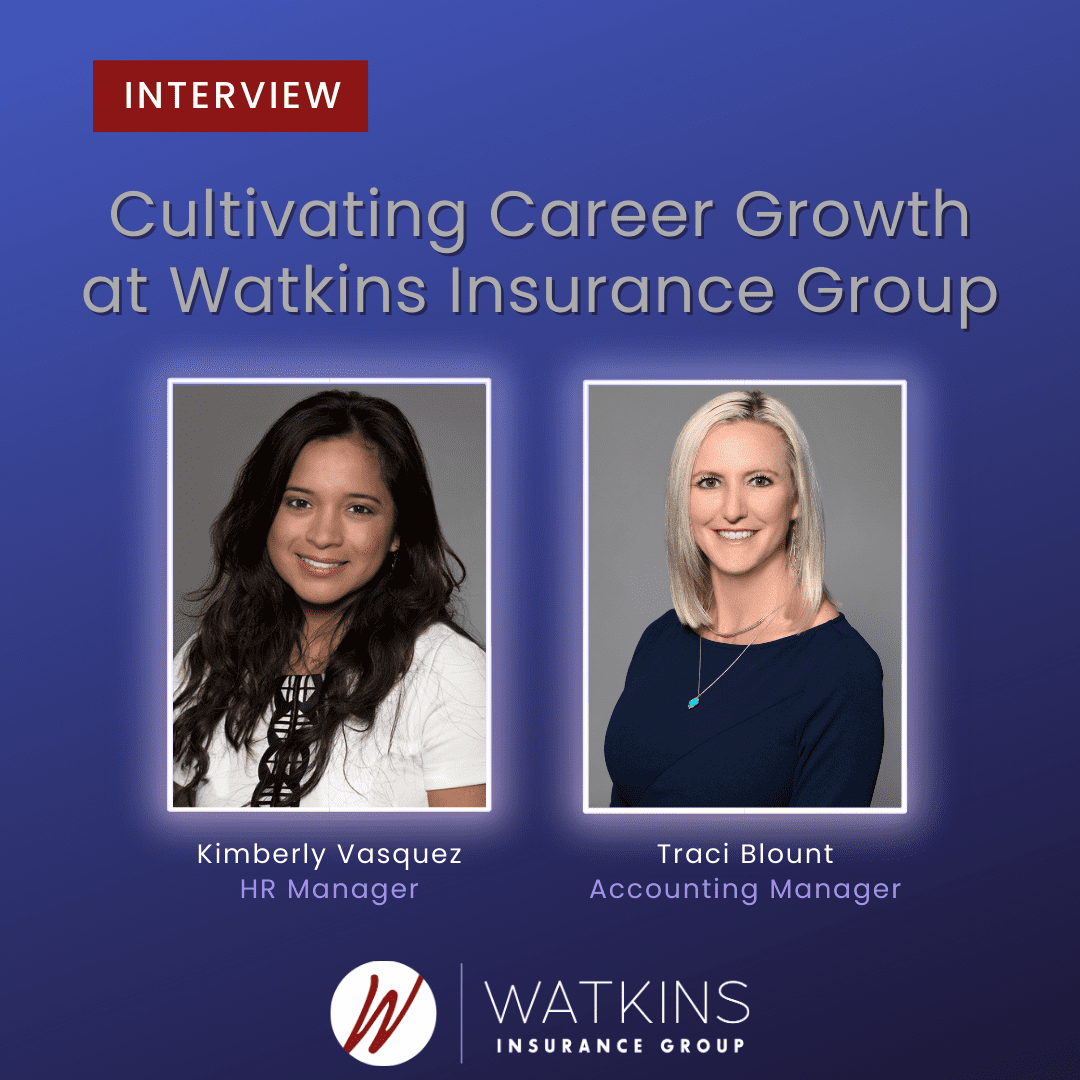 Author: Kimberly Vasquez
Starting as the receptionist in our Austin office, Traci Blount would answer calls, sort mail, and order supplies. Little did she know that she was embarking on a transformative journey toward becoming the Accounting Department Manager at Watkins Insurance Group. The path to professional growth and personal development is sometimes linear. However, Watkins fosters it through a supportive work environment and a steadfast commitment to internal promotion.
We sat down with her to discuss her story of growth within our organization. Her experience underscores the essence of our agency—careers start here.
Evolving Roles, Expanding Responsibilities
She recalls with nostalgia her initial days, gradually molding the receptionist role into something much more. From processing mail for various departments to scanning documents, her role evolved. And, as she demonstrated her capabilities, her potential was recognized.
The opportunity to transition to the accounting department came at a time of growth for Watkins. Her manager's faith in her abilities and the supportive work environment significantly influenced her career progression. She was entrusted with revamping the direct bill process and took on the challenge head-on, transforming it into a more efficient mechanism.
Continuous Learning and Development
A part of her journey at Watkins has been the continuous professional development opportunities the agency provides. She has utilized these opportunities to hone her Excel skills and broaden her understanding of 401(k) compliance.
At Watkins, we believe in nurturing our employees' skills and providing them with resources to excel in their roles. Our commitment to fostering learning is rooted in our desire to build a community that thrives professionally and personally.
Work-Life Balance and Mentorship
A key factor that makes Watkins stand out as an employer of choice is our commitment to maintaining a healthy work-life balance for our employees. As she poignantly puts it, Watkins is a "family-oriented organization." Our employees are encouraged to participate actively in their family lives, ensuring their personal growth does not take a backseat in their professional journey.
Traci also emphasizes the impact of mentorship on her growth, exemplifying how Watkins is a community that fosters a culture of knowledge-sharing and mutual development.
Internal Promotion and Achievements
At Watkins, we believe in rewarding hard work and results. As Traci's journey exemplifies, the opportunity for internal growth and promotion is vast. From a receptionist to the Accounting Department Manager, her career trajectory has been inspiring. It also affirms our commitment to recognizing and promoting talent within our ranks, enhancing our sense of community.
Looking back, her advice to someone starting a career in accounting or considering a role at Watkins is simple yet powerful— "Do the work." She encourages newcomers to understand and appreciate the workflow within the agency, as it is key to personal and professional growth.
Our community at Watkins Insurance Group supports and fosters internal growth, valuing hard work and delivering results. We pride ourselves on our supportive work environment, abundant opportunities for professional development, commitment to maintaining work-life balance, and our culture of internal promotion. These pillars make us an employer of choice for those seeking to embark on a fulfilling career journey. We are more than just an insurance agency. We are a community inside and out.